Almeda Bed & Breakfast, Limerick, Ireland - Attractions

Almeda Bed & Breakfast in Limerick City, Ireland is about a 10 minute walk from the centre of Limerick City. It is also conveniently located on the direct route to Cork and Kerry, with Shannon Airport only a 15 minute drive away.
It is also just about 5 minutes walk from Mary Immaculate Teacher Training College; the Crescent Shopping Centre and the Regional Hospital. Also walking distance to resturaunts, pubs, take-aways, off licence, swimming pool, laundry, hairdresser, beauty salon, Omniplex and other amenities.
Local transport 1 min walk, 15 Minute to Shannon airport.

Local Amenities:
Leisure Centre.
We can arrange for our guests to have the use Gym, Pool, Sauna etc.
Golf
Horse Riding
Horse & Greyhound Racing
Rugby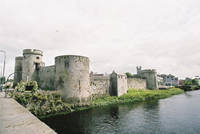 Our Main Street location places us at the HUB of LOCAL ATTRACTIONS.

A short distance to Adare, Killaloe lake (Lough Derg) ,fishing, boating, Beautiful country scenic walks, watersports. Golf, horse riding. 10 min to Bunratty Castle and folk park.


Local Interest:
St. Mary's Cathedral
King John's Castle
The Treaty Stone
The Hunt Museum
Bunratty Castle & Folk Park
Angela's Ashes Walking Tour
Limerick University Concert Hall
Please contact us direct for more information and reservations.